Title
Speaking
My programs vary according to the needs of the audience. Fees are based on program requested, travel, and accommodations.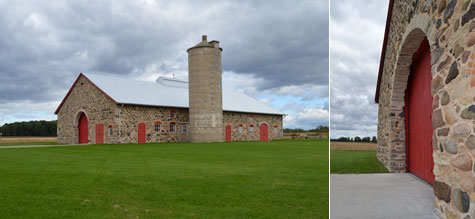 The Chase Stone Barn in Wisconsin is a thing of extraordinary beauty and is the pride and joy of many in the area. Yet, this barn could as easily have been destroyed when its supposedly useful days were over. Today it is used for events, including an annual community picnic. It is as awe-inspiring inside as out.
"Barns -- Cathedrals to the Earth's Spirit"
Images and Stories of Heritage Barns

"Saving Barns from Sprawl"
How to Save a Heritage Barn

"Books, Barns, and Be-Attitudes"

"Barns, Boxes, and Marshmallows"
Making the decision to save or replace a barn

"When Seldom is Heard An Encouraging Word"
Persisting in the Face of Opposition

A Place Called Heaven
I found mine. Where is yours?

Nonprofits: Team-work or Power-play?
Traits of successful nonprofit organizations
"Because I love barns I have heard maybe seven or eight people do programs on their history, construction and reusing them. Your program is far and above the others. It isn't just what you say, it's how you say it. Your love for barns and for people shines."
K.K. Manistique
"So nice to finally meet you. You are a spell-binding presenter, and I know we all enjoyed your talk so much! Indeed, when you showed the human side of emotion connected to barns, it was very moving."
Ann G.