Looking for a speaker?
My programs vary according to the needs of the audience, they lean toward three key themes – barns, books, and be-attitudes – building on my love for heritage barns, their stories and preservation; a writer's life (it isn't nearly as romantic as some assume), and my personal value system on what gives meaning to life. Let me know your interests and expectations. Programs are accented by PowerPoints and displays. Special opportunities can be developed for target audiences. Fees are based on program requested, travel, and accommodations.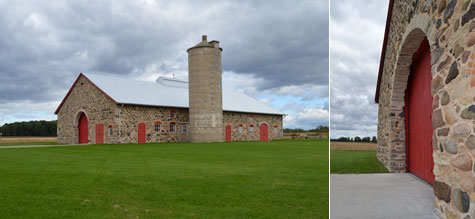 The Chase Stone Barn in Wisconsin is a thing of extraordinary beauty and is the pride and joy of many in the area. Yet, this barn could as easily have been destroyed when its supposedly useful days were over. Today it is used for events, including an annual community picnic. It is as awe-inspiring inside as out.
Here are a few topics:
"Michigan's Mystery Barns"
(a special feature of Michigan Farmer magazine)

"In Their Own Words"
Images and famous quotations about barns set to music

"Barns -- Cathedrals to the Earth's Spirit"
Images and Stories of Heritage Barns

"Saving Barns from Sprawl"
How to Save a Heritage Barn

"Books, Barns, and Be-Attitudes"

"Journaling for the Health of It"
Keeping a Journal: How and Why

"Sharing Your Life's Story"
Journaling, Writing, Publishing

"Barns, Boxes, and Marshmallows"
Making the decision to save or replace a barn

"Holding on While Letting Go"
Accepting the Loss of a Loved One

"They said, 'You should write a book!'"
So you want to write a book? Really?