Escape to Maui
Several years ago, my husband and I decided that we would treat ourselves to a "big" trip now and then. Last December we visited the Hawaiian island of Maui. Having been there before, we were able to say "Been there, done that" when it came to pricey tourist excursions. Our plan this time was to relax and take the days as they came.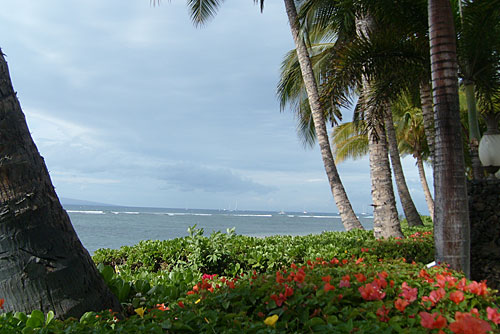 This view from our hotel is my wallpaper for the winter. Enough said?
We stayed (again) at one of the island's oldest hotels on the east end of Lahaina on the west end of the island. Lahaina is just 24 miles from Kahului, on the north side where jets make direct flights to and from the Mainland. From Lahaina you can see Lanai' and from the far northwest end of the island, Molokai. We learned the last time we were on Maui (2006) that when Bill and Melinda Gates were married, he reserved the two major resorts on Lanai', i.e. the island, for their wedding and flew their guests there. I guess our invitation got lost in the mail!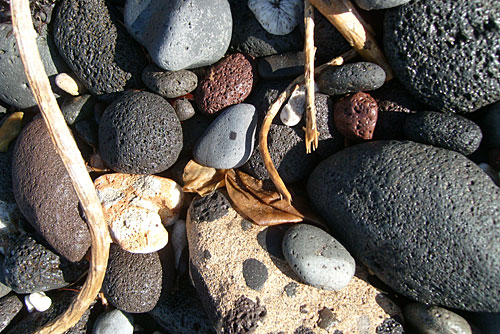 When you think of the Hawaiian Islands do you think of white sand beaches? There are also black sand beaches and areas rich with the textures and colors of lava stones, coral, and more.
Maui, like the Mainland, is an amazing mix of climates, altitudes, geography, lifestyles, and opportunities to test one's endurance (mountain climbing, zip-lining, surfing, hiking, and driving the famous "Road to Hana" which is not-for-the-faint-of-heart). We did the Road to Hana in '06 so that was not on our to-do list this time (thankfully).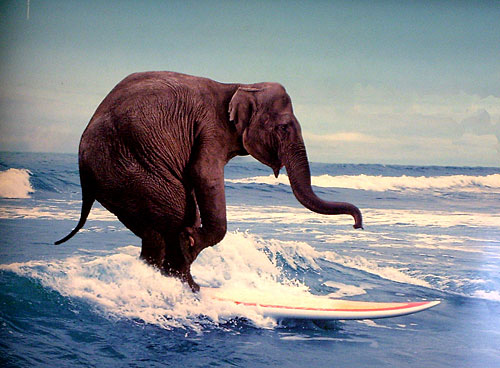 This fellow looks much more graceful on a surf board than I would!
Most anything you want to learn about any place in the world you can learn online these days so what you don't need from me is a travelogue or textbook facts & figures. So, I will just post some tidbits of information with a few photos and stop at that. Let me know what you think. Aloha and Mahalo (See you/Best Wishes/Love and Thank You).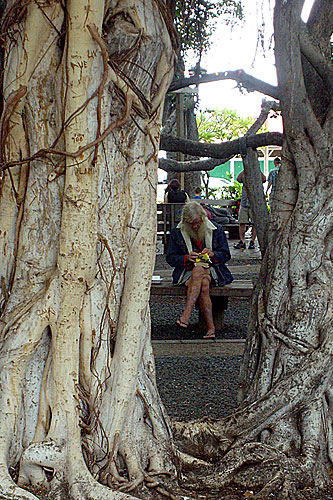 We were shocked to learn (from a very credible source) that California is sending its homeless, some of whom have mental health issues, to the Islands. This gentleman slept behind the library at night and read his Bible much of the day. The root-like masses in the foreground are part of the famous banyan tree in Lahaina.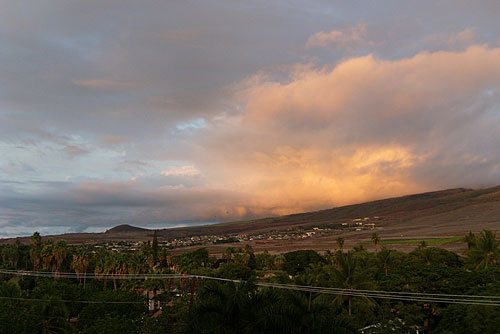 We were captivated by the ever-changing panorama of colors, shadows, clouds, and light but development is creeping up the mountainsides and construction of another highway is pushing aside pineapple and sugar cane fields. What is the ideal balance? Can it be achieved or will Maui become like the old song -- "Don't it always seem to go, that you don't know what you've got 'til it's gone. Pave paradise, put in a parking lot."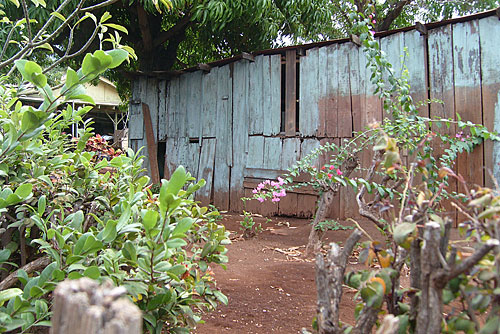 Of the more than 100 islands in the Hawaiian chain only 7 are inhabitable. Oahu with its 12 lanes of congested traffic going to and from Honolulu is not a destination for us. We prefer 'real' neighborhoods and local shops to high rises and chain stores.
Jan Corey Arnett©2011