Farm Girl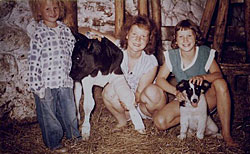 My passion for barns blossomed when I was a child, hearing my father speak with great affection about our barn on Coralan Farm. It was nurtured searching for kittens, reading books, and building forts in the haymow. It grew creating constellations from dappled light streaming through knotholes and watching milk cows plod in for evening milking. The main barn had been built by my grandfather on land settled by my great grandfather in 1882. After my parents took over the farm in 1940 they built an award-winning herd of Holsteins. Our farm was a popular stop on farm tours.
The addition to the main barn was built by my parents in 1962. Had my parents' health held out, the farm would have stayed in the family. Dad always said that the hardest part about leaving the farm was leaving the barn.
After we sold the farm in 1969, the herd was sold. A couple bought the parcel with the buildings and remodeled the house but destroyed the timber-frame barn. The dimensional-lumber barn was converted to new uses. Photo (Jan at left with sisters Judy and Lois on Coralan Farm.)
---
"Thanks for Asking"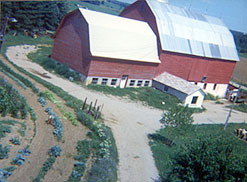 The Barns on Coralan Farm - 1968
People often want to know what I hope will happen to preserve America's barns. Many barns I have photographed over the years are dying or gone. We can't save every vestige of our history. However, there are barns that can and should be saved. My hope is that there will be a national endowment for the preservation of America's barns. From this endowment, grants can help caring people undertake projects to identify and save "signature barns" of special importance to local and regional history; document barn and farm/ranch architecture and life stories; host barn-related events that draw people together in the spirit of community; introduce children to the wonder of a barn; host create barn tours; produce written guides and barn quilt trails; help those who want to save barns save them when they lack the resources to do it alone; support feasibility studies and rehabilitation that gives new life to old barns; and keep people working in collaboration to shape zoning, insurance, code and adaptive reuse policies that benefit barns. We all need hopes and dreams. These are mine.