About the "Barn Lady"
"The Barn Lady," name was given to me by a little boy, watching as another person and I negotiated to save a heritage barn from a wrecking ball. "Why are you doing this, barn lady?" he asked. "So children like you can have the opportunity to experience these wonderful places," I answered. I believed it then and I always will. There is room and work for anyone who wants to be a Barn Lady or a Barn Guy.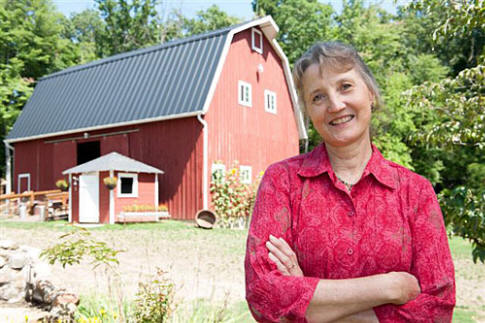 Photo Courtesy Trumpie Photography, Grand Ledge, MI.
Io Triumphe, Albion College alumni magazine, "Barn Crusader." Fall/Winter 2013
This once beautiful, hard-working barn was losing its life day by day as rain and snow trickled through its roof, rotting hay and in turn its frame, just as osteoporosis destroys human bones. But when its owner agreed to sell it for $1 and allow a visionary to give it new life, it was transformed. The red barn behind me today is a meeting and wedding venue in Battle Creek.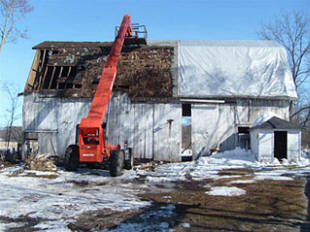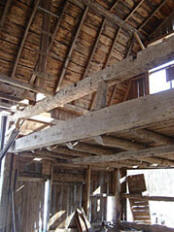 My passion for barns blossomed when I was a child, hearing my father speak with great affection about our barn on Coralan Farm in Michigan's Upper Peninsula. It was nurtured searching for kittens, reading books, and building forts in the haymow. It grew creating constellations from dappled light streaming through knotholes and watching milk cows plod in for evening milking. The barn had been built by my grandfather on land settled by my great grandfather in 1882. After my parents took over the farm in 1940 they built an award-winning herd of Holsteins. Our farm was a popular stop on farm tours.
When Dad's health gave out, he said that the hardest part about selling the farm was leaving the barn. The farm was later sold twice and the barn fell into total neglect. Eventually the owner split off the house, barn and 40 acres. A couple from Illinois transformed the house, but demolished our magnificent barn. It is because of my respect for my parents and the barn on Coralan Farm that saving heritage barns has become so important to me.