Hi,
Thanks for stopping by. I have created this and my other website, www.barnlady1.com, because as a writer committed to themes that stir thought and, I hope, positive action, including the preservation of America's irreplaceable heritage barns, I wanted to have a place where I might connect with kindred spirits.
Enjoy your visit to my websites. Email me if you like,
Jan
Just In!
See what others are saying about Jan's recent program.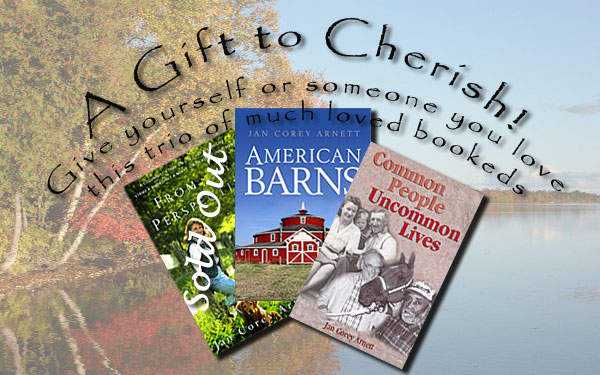 | | | |
| --- | --- | --- |
| One book: | $10 | +$3.75 shipping |
| All Three: | $30 | +$5 shipping |
Make checks payable to Jan Corey Arnett.
Send to 2444 Halbert Road, Battle Creek, MI, 49017.
If you would like books signed to individuals, please provide name(s) when you place an order.
For those who do bulk buying online or only do their purchasing online, here is a quick link: https://affiliate-program.amazon.com/
Contact Jan to obtain signed copies of American Barns or to arrange for special presentations and book-signings.
Beautiful Century-Old English Barn For Sale