Barn Decision Making
People frequently want to know where they can get money to fix their barn. If it is a barn used by a nonprofit organization, there may be grants available, primarily through foundations when the use for the barn matches the programs of the funder. But for the most part, few grants are available. Here in Michigan you can contact the State Historic Preservation Office for information. Some barn organizations around the country have grants available within their own state when privately-owned barns meet certain criteria.
One of the worst problems is that far too often barn owners let their barns go until what might have been a small, modest repair turns into an expensive, difficult project. It is the small hole in the roof that grows larger while inside the frame and flooring are rotting. It is the vines climbing, the roots tearing and the branches scarring. All easy fixes. But allowed to continue, the barn dies. Don't let your barn go, at the bare minimum get it stabilized and STOP the damage, until improvements can be done at another time.
Sadly too, good barn contractors are often booked a year in advance and like other employers, have trouble finding good help. We desperately need contractors who are willing to connect with the academic community to train a new generation for barn repair. Many repairs can be made by a good carpenter. Don't delay!
Old barns
CAN have NEW LIVES!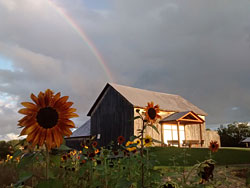 The Carl Dhaseleer family in Charlevoix restored their 1874 barn which today hosts "the Black Cat Concert Series," holds a taxidermy shop, and a pottery studio, in addition to complementing the work of community supported agriculture.