"When You See the Big Red Barn…"

updated and revised 1-22-11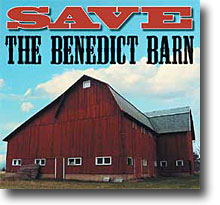 On an April day in 2004, my husband and I were headed north and when we neared Ionia, I looked for the landmark big red barn. To my shock, a developer's sign said the farm was for sale.
Our stop to ask for permission to photograph the barn turned into a four-year quest to save the barn and other buildings from urban sprawl, advancing like an oil slick. Wal*Mart Corporation was negotiating to buy a portion of the farm, including the 1922 barn.
Owner, Keith Benedict, showed me around the farm with its huge barn, century-old corn crib, timber-frame farmhouse, wood-frame machine shed, and two additional homes. The farmstead area of the 197-acre farm featured tall evergreens, catalpa trees, and flower gardens. It was too late to add a "condition of sale" clause to an agreement which would require the purchaser to save the buildings so what ensued was a journey into community politics, corporate practices, and collaborative perseverance. But it was also a journey into the certainty that people working together can make a difference.
While at the farm, one day, Mr. Benedict's young grandson asked, "Why are you doing this, Barn Lady?" to which I replied, "So children like you will have a chance to see how wonderful barns are."
The Benedict Barn's architecture was unique Thousands of bales of hay and straw could be stacked to the 60' peak of the 40'x108'gambrel barn and its 50'x60' wing. Eight interior bins stored hundreds of bushels of grain.
Serendipitously, Central Michigan University's television station was doing a documentary on the plight of Michigan barns and included the Benedict Barn. Calls poured in with ideas for saving the barn, the best of which was that Wal*Mart should keep the barn and farmhouse and convert them to a gardening center and coffee shop, neatly set beside the trees. Ideas included making the barn a restaurant, greenhouse operation, community center, storage facility, museum, a preschool or part of the Ionia Free Fair
Wal*Mart said it could not deviate from standard supercenter designs and went back on its offer to fund the entire relocation of the barn. It was the two top officials of the National Trust for Historic Preservation who became my greatest allies and it is largely because of their efforts, that Wal*Mart finally agreed to put $150,000 toward relocating the barn. I was given the responsibility of choosing who would get the barn but instead, formed a committee of representatives from preservation organizations. Proposals were to rebuild the entire barn to become a big red school; reuse wood to create a small barn, a blacksmith shop and a storage building at a historical village; or reuse main timbers to build a smaller barn at a YMCA. At the 11th hour, the school proposal was withdrawn or it would have been chosen. The committee selected the YMCA proposal.
Eventually Wal*Mart would give a little more time and Mr. Benedict would give a little money and the corn crib would also be saved, but all other buildings were destroyed.
The most important lessons are that good can come when people work together and when you truly believe in something. You must not listen to the naysayers.
In the best of all worlds, we would reuse exploited land before ever devouring productive farms and fields. As consumers, we would have far fewer wants and be earth-friendly. And in that world, a big red barn would still stand, a box store would not be needed, and future generations would see beauty.
Jan Corey Arnett©2011
Benedict Saved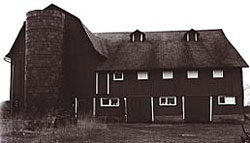 The beautiful barn is 40' x 108' with a 50' x 60' wing. It was dismantled, moved and reconstructed on a new location. The barn is being used for fundraisers, weddings, meetings, and a range of camp activities.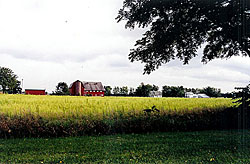 "You know when you're nearly to Ionia when you see the big red barn."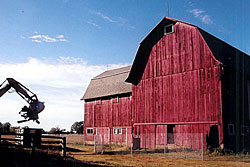 The claw of death was stopped, but not before it had eaten a beautiful machine shed that could easily have been saved and relocated.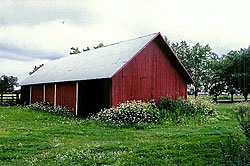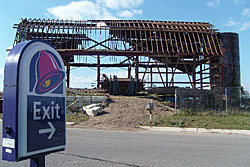 ...a barn contractor who worked in the late autumn rains and chill to get the barn dismantled and moved in the time...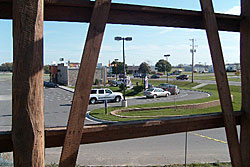 "Once there were green fields...." now there is pavement, lights, traffic, and noise.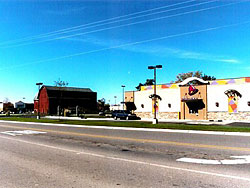 Where once there was a yard and a garden beside the original Benedict farmhouse, now there is pavement and a fast food restaurant. Is it any wonder Michigan has an obesity problem?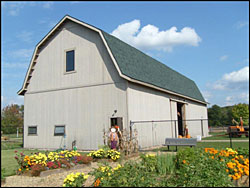 ...today a 30'x80' gambrel barn stands proudly at the YMCA where teens could barely wait for the concrete floor to be completely dry before they held a square dance...