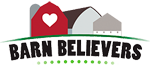 In 2017, with the help of fellow barn-loving folks, Barn Believers Community Project Fund was created with the Battle Creek Community Foundation.
Time is of the essence for saving traditional barns which is why we created a fund rather than an endowment. The Fund, in 2019, made its first $1,000 grant to help a nonprofit continue its adaptation of a relocated barn as a museum. Visit www.barnbelievers.org for more information.
Help build the Barn Believers Fund
Visit http://www.bccfoundation.org/giving/Barn-Believers to donate online.